MAXIMUM GRIP AND TRACTION FOR STEEP ASCENTS
Splitboard skins with maximum grip and traction ideal for steep ascents and icy skin tracks. High-traction nylon plush material for durability and versatility with stout materials and connectors.
The splitboard-specific components including tip connector with one fixed and one articulating hand, camming tail connector, and pre-cut straight edge combine for a secure, lightweight connection on most board shapes. Eliminating the need for difficult positioning and hard pulling to affix the tail strap, the new SPLITBOARD+ tail connector features a straight edge to line up on your board and a simple camming clip that requires very little effort and will hold the tail strap in place with confidence.
The sizing curve for the SPLITBOARD+ skins reflects real user needs and positions the most popular board lengths in the middle of a size.  Removable rip strip Reduces skin-to-skin adhesion, making it easier to pull apart skins. If your glue gets contaminated on an epic traverse, you can remove the strip for extra adhesion.  
Having problems fitting the tail clip to swallow-tailed boards?  If you use a swallow-tailed board, you can try switching the left and right tail clips to grab the curved outside of your board.  Or you can try retrofitting your skins with G3 Twin Tip Connectors 




Asymmetrical tip connector & innovative camming tail connector
Pre-cut straight edge
Flexible sizing with generous overlap
Removable rip strip
Trim Tool & Skin Savers included
Updated non-toxic adhesive lets you do more laps and cover more terrain
PFC-free waterproofing treatment that exceeds environmental standards
Proudly designed, tested and manufactured in BC, Canada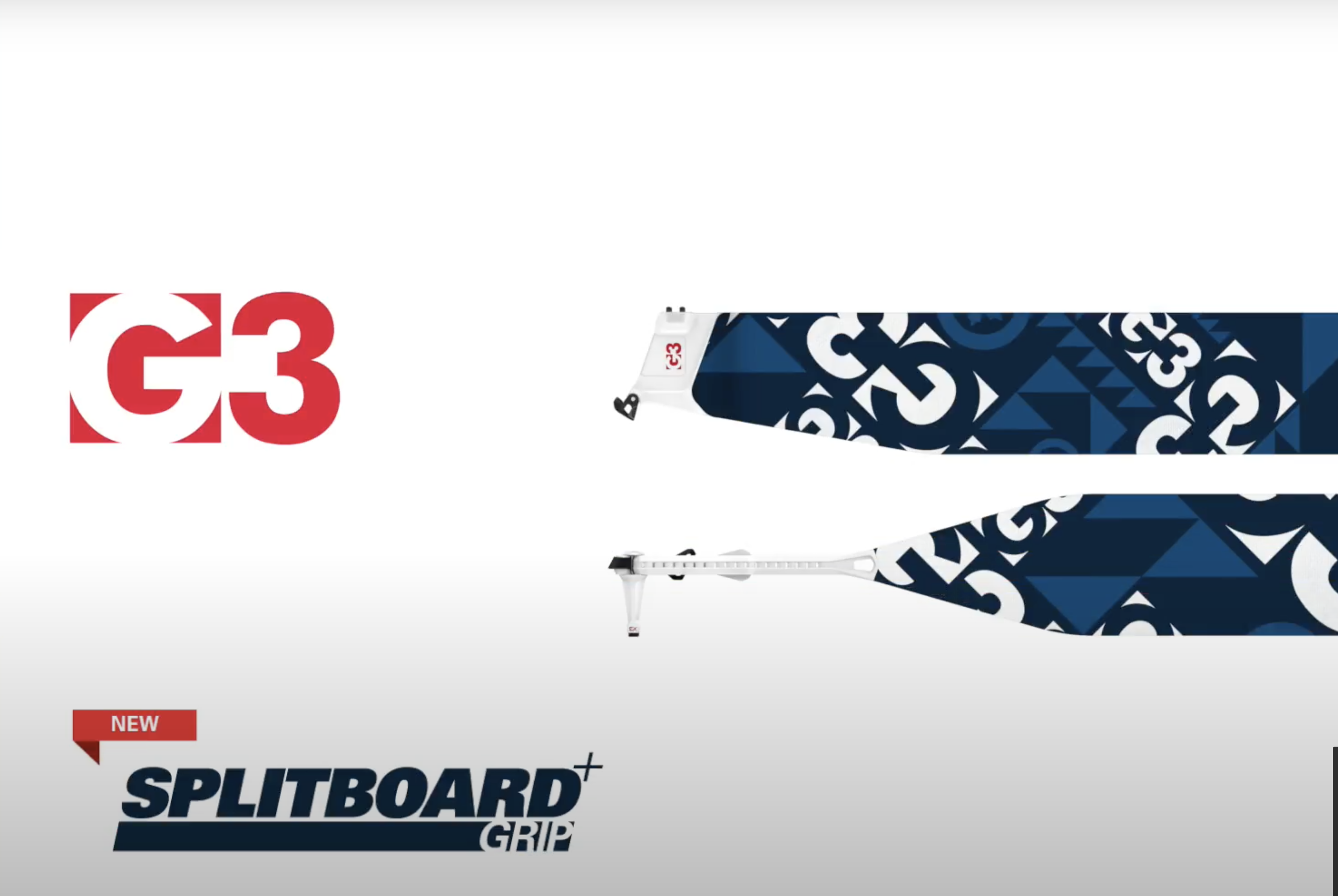 Tech Specs
Lengths:

144 - 162cm
154 - 172cm

Size:

S/M
M/L

Weight (kg):

312g
335g

Weight (lb):

11.0oz
11.8oz

Width:

140mm
Splitboard grip climbing skins
These skins grip! Built for the west coast conditions.
easy times
super easy to trim & apply/remove every time. love the unexpected bonus of the non-glued strip section to make the larger snowboard skins easier to manage
These skins are perfect for varied snow conditions!
The Grip skins are so great in varied conditions. They stick to crud, ice, snow, slush, pow... whatever you can throw at them, they'll tackle. I love these skins. The only con is that they don't glide downhill, but they're bomber on the uphill tread!