HIGH PERFORMANCE SPLITBOARD DESIGNED FOR SUPERIOR FLOATATION
A powder slaying beast with a powder-specific rocker profile and 25 mm of taper in the tail for superior flotation. Its insanely light and responsive full carbon construction with PU sidewalls is ready for big days. Go as far and deep as you can.
Made with a Poplar Paulownia wood core for a lightweight & long lasting tuned flex.
With camber under foot and a rockered tip, G3's Powder Rocker sinks the tail of the board to lift the nose high out of deep snow. Expect quick responsiveness in tight trees and an effortless ride without the leg burn.



2 Layers of Carbon Fibre, Triaxial Stitched
Biaxial Stitched Carbon Fibre
Poplar Paulownia wood Core
Stealth Razor Edge Profile
Textured Co-Extruded Nylon Topsheet
Full Thickness Hardened Steel Edges
Full Thickness Base
Taper: 25mm / 24mm / 25mm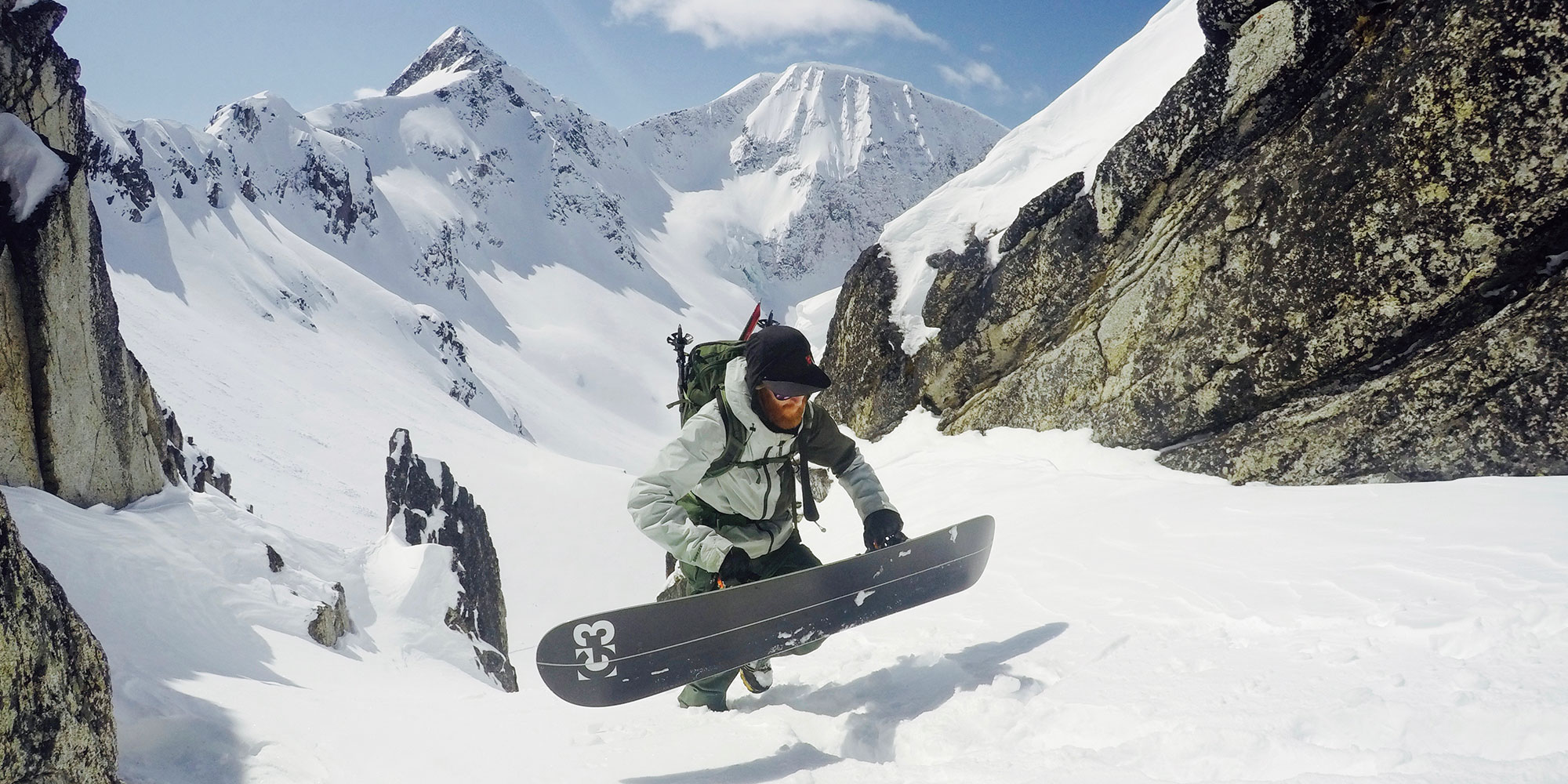 Tech Specs
| | | | |
| --- | --- | --- | --- |
| Lengths: | 158cm | 162cm | 166cm |
| Weight (kg): | 3.06kg | 3.21kg | 3.34kg |
| Weight (lb): | 6lbs 12oz | 7lbs 1oz | 7lbs 5oz |
| Rider Weight (kg): | 140 - 190lbs | 160 - 210lbs | 175 - 225+lbs |
| Rider Weight (lb): | 64 - 86kg | 73 - 95kg | 80 - 102+kg |
| Radius: | 8.2M | 8.7M | 9.4M |
| Tip/Waist/Tail Width: | 310mm/257mm/285mm | 312mm/259mm/287mm | 313mm/260mm/288mm |
Powder Rocker
With camber under foot and a rockered nose, G3's Powder Rocker sinks the tail of the board to lift the nose high out of deep snow. Expect quick responsiveness in tight trees and an effortless ride without the leg burn.
SCAPEGOAT Construction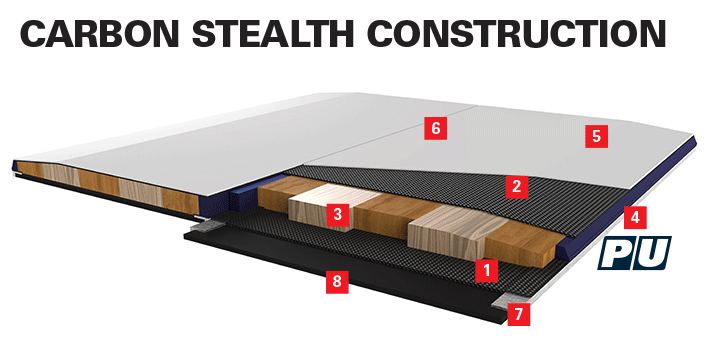 1. Two layers of Carbon Fibre, Trixaial Stitched - strong, light & torsionally stable
2. Biaxial Stitched Carbon Fibre - strong, light & torsionally stable
3. Poplar Paulownia Wood Core - lightweight & long lasting tuned flex
4. PolyUrethane Sidewall - durability & dampness
5. Stealth Razor Edge Profile - reduces mass
6. Textured Co-extruded Nylon Topsheet - durable & sheds snow/ice
7. Full thickness Hardened Steel Edges - corrosion & dent resistant
8. Full Thickness Base - durable, long-lasting & fast
Such a sweet ride
I am new to splitboarding, so I cannot compare this to other options out there, but I can say this board is a beast both in and out of bounds. I get out a handful of times each season in the back country and it is light going up hill and has handled everything I throw at it in the back country. I love this board so much, that it has become my go to to powder board in bounds as well. As the description states, this board floats effortless in the deepest Utah powder and I can do laps all day without leg burn. My go to inbounds board before this was the jones all mountain twin, which I absolutely love, but that board now sits in my closet on powder days. Shred the freshies all morning in bounds and hit a few laps in the back country later in the day. This board will not disappoint. (180lbs riding a 162)
Thanks for the awesome review! We're stoked that you're loving your Scapegoat!
This board changed my touring life
I have had several days on this board now, ranging from hip deep rocky mountain runs to icy hard pack. This board handled it all and better than my burton splitboard ever did. The boards shape naturally wants to float down the mountain. Allowing you to really enjoy your descent, with minimal leg work being done to keep you floating. The light weight construction also saves your legs from fatigue. Giving you more energy, making you more efficient on your up track. So you can keep boarding longer and further than you thought possible. Durability wise, the top sheet doesn't show scratch marks like a typical gloss sheeted board would, I haven't had any ice building up on the top sheet either. And since it has a full thickness base, its easy to repair even when a rock takes a good gouge out of it. The jones splitboard line does have a similar light weight board to offer, but they suffer durability wise since they can't utilize a full thickness base with their choice of building materials. The only thing I can nit pick about this board, is the placement of the toe pivot(I wish it was like an inch forward of its current placement). Kick turns aren't the most fluid experience, the board is too evenly balanced between the nose and tail. You really have to kick out your heel to bring the nose of the board out of the snow to initiate the turn. It could just be the bindings I'm using that are causing this minor annoyance, but this splitboard is still by far the best one I have ever owned
So stoked on this board
At first feel it's just crazy light- you pick it up and wonder if if you're even holding a split. But it doesn't sacrifice durability- is super sturdy and even though it's a powder board it's rides great on the hardpack as well. Love the polyurethane sides, and love the simple design and colour. Just overall super stoked on the board and can't wait to get some deep days on it!
Let it surprise you!
This is such a great board! Having owned all-mountain/twin boards all my life, I was reluctant to try a board with a different shape. In fact, I think I would have never made such a move. I was intimidated by statements such as "powder slaying beast" and "Go as deep as you can". Here on the east coast, we don't get that much snow so I originaly ordered the BlackSheep. It had a shape I was more familiar with but thanks to an error in the inventory of the shop, I ended up with a ScapeGoat. And boy am I pleased! I absolutely love this board. And it doesn't have to be knee deep powder conditions to perform! It works very well on summits crust and hard snow too! As you make your way down and snow gets softer and deeper, that tail progressively starts to sink in and that big tapered nose start to float effortlessly. It is such a charm, I absolutely love it.
Good but needs some design tweaks
On my second season with this board in the rotation, want to pass on some design feedback:
1. Pivot placement for ski mode needs to be moved forward an inch or so (as noted in another review). Just a bit, not too much:
-difficult to kick turn, tips love to dig in on corners or uneven terrain, it's just a bit tip heavy in ski mode. (exacerbated by snow accumulation, see below)
-the design of the skins, plus the placement of the binding in ski mode means you're often not weighting maximum skin onto snow. Only makes a difference in marginal conditions, or difficult skinning, but it'd be better to be slightly further forward so there was more weight on the skins (or change the skin design so there was a bit more coverage to the rear).
2. Top sheet material holds snow like that's it's job. If there's any moisture, the textured top sheet accumulates snow and thus weight. I can't see why that's more desirable than lack of scratches. I've also got a couple spots flaking back from minor dings so not sure of the material durability long term.
In in the right conditions, it rides great, but it's definitely a pow specialist. It's not terribly responsive or nimble if the snow gets bad/challenging. Nice and light though, been easy on the legs on long tour days. I've only had superficial durability issues thus far but I'm also not torturing it.
Maybe I'm a star light, this might be a 4* board, but I want G3 to read the critique and give some consideration. I'd also only recommend this board to someone looking for a true powder day option; add it to a quiver, don't rely on it full time.
FYI riding the 166, 6'1" @ 195